This time I present to you a device that I have long wanted to try, thanks to the company NETIO. In this case I have acquired one of your Smart Sockets, in my case I am in America our electrical network is 110VAC, it is recommended to use the NETIO PowerPDU 4C, perfect for my tests, it has a variety of interesting features.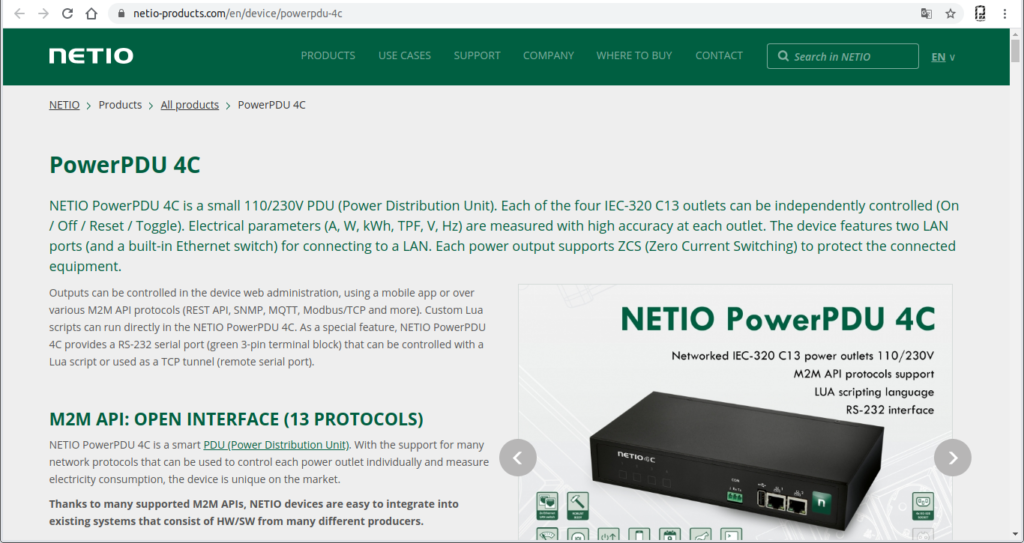 Let's learn more about Netio

NETIO is a company that produces smart sockets that can be controlled and managed via LAN and WiFi. This company is originally from Prague / Czech Republic / Europe. Its products are programmable and technically support all the most used M2M / IoT protocols.
Its motto is: "NETIO Products: Smart outlets controlled by LAN and WiFi".
Oficial WebSite : netio.com
PowerPDU 4C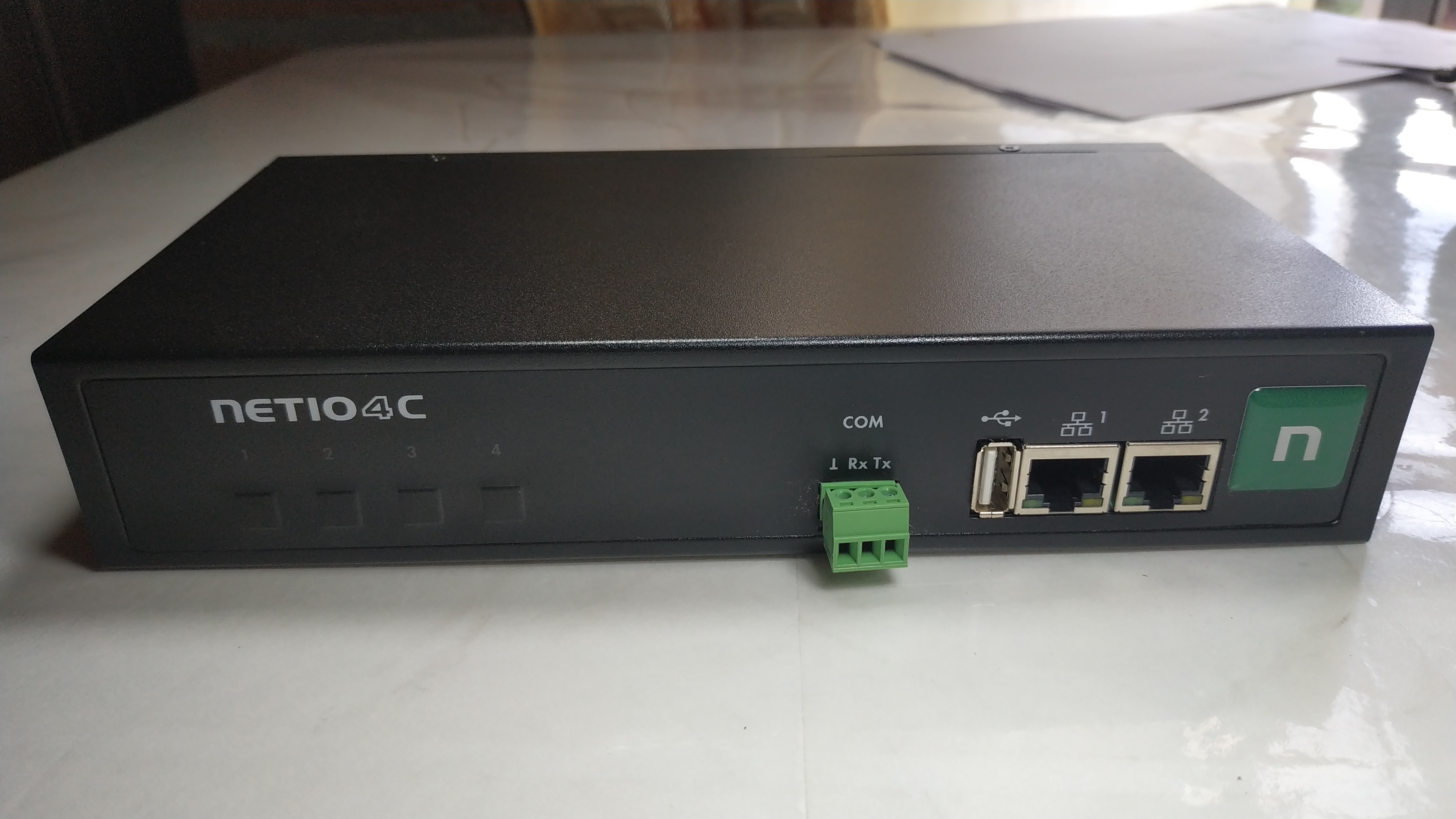 Applications or use cases
They require managing devices on or off through IoT or M2M protocols, which can be:
Servers
Laboratory equipment
Manage Multimedia Systems
Manage lighting time Advertising and Lighting.
Air conditioners
CCTV or IT infrastructure
Vídeo: Initial Review PowerPDU 4C
Characteristics
Power
Open API interface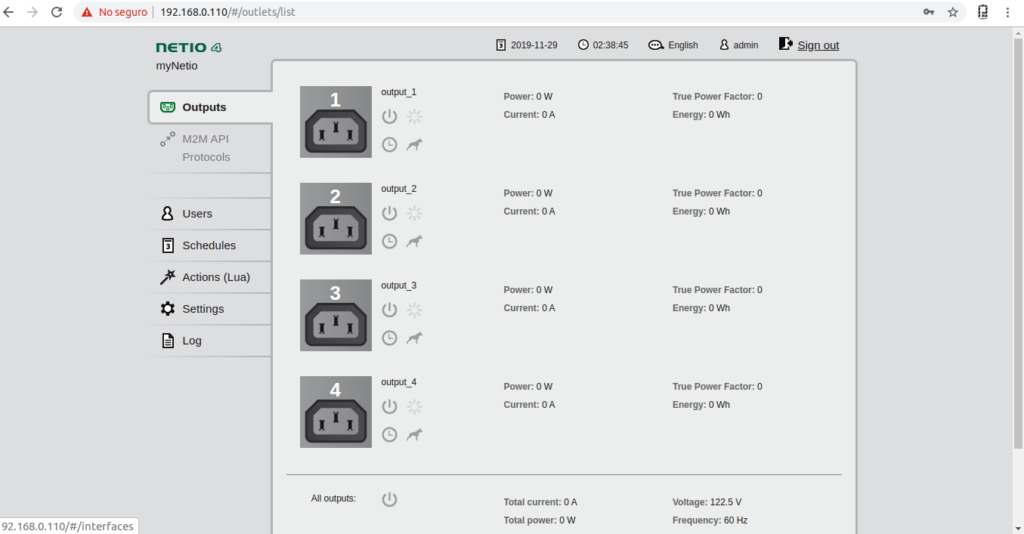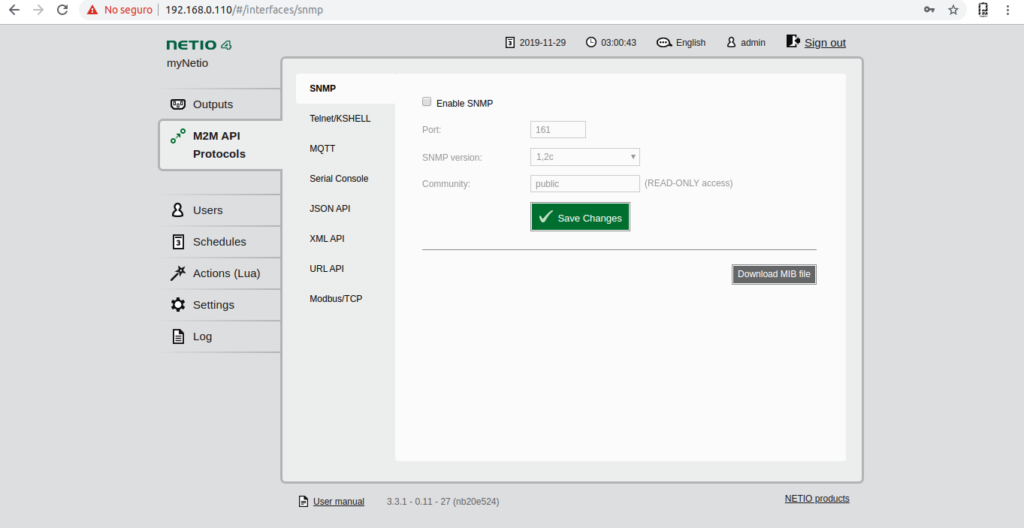 Unique Features of PowerPDU 4C
Built-in Ethernet switch
No momentary output change even during FW update
Lua scripts that run directly on the device
Planner function with graphical interface.
Support for measurements with external sensors.
Support to read / write values in UPC using SNMP
Technical specifications
Power Ratings
Supply voltage: 110/230 VAC / Max 10A
Low internal consumption: 2 to 5 W
Surge protection: yes
Maximum energy 125J
Maximum applied voltage 300Vrms
Max. maximum current 20 / 80us 4500A
Max. clamping voltage 775V
Power outputs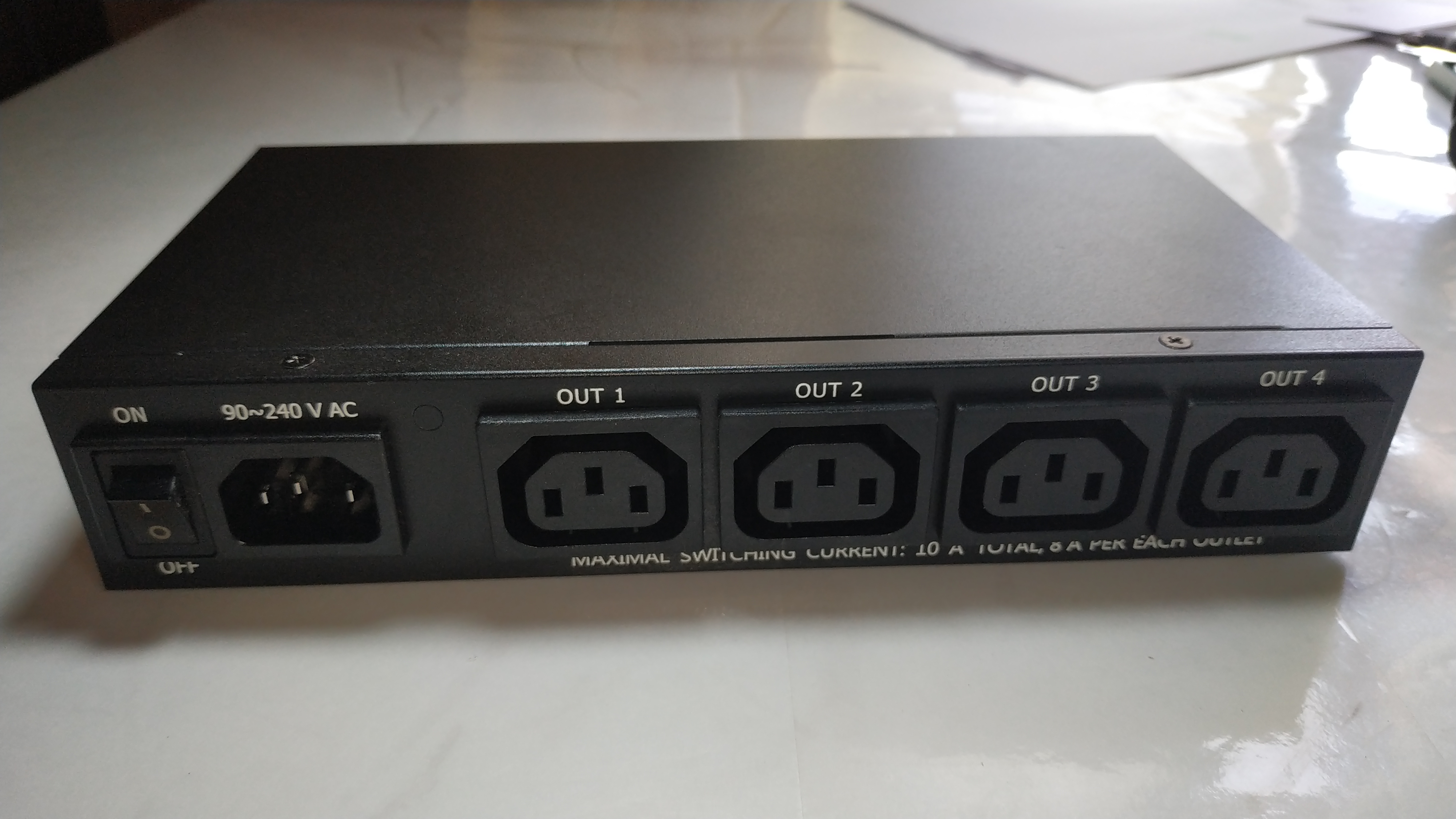 Power measurement
4x current [A]
4x consumption [kWh]
4x output power [W]
4x TPF (actual power factor)
Frequency [Hz]
Voltage [V]
Phase [-180 ° to 180 °]
Accuracy: better than 1% (25 ° C)
Communication
2x 10/100 Mbps LAN (RJ-45)
Built-in unmanaged Ethernet switch
RS-232 serial port (3 pins: Rx, Tx, GND)
USB: only as 5V / 1A supply output
Mobile application: NETIO Mobile
FW update via web interface: Yes
Protocols: HTTP, HTTPS, SMTP, DNS, NTP, UPnP, DHCP, SNMP, ICMP, MQTT, SSL, Modbus / TCP
Local Control
Main switch
4 buttons for individual shots
LED indication of current output states
Sound indication: yes
Open API M2M / Protocols IoT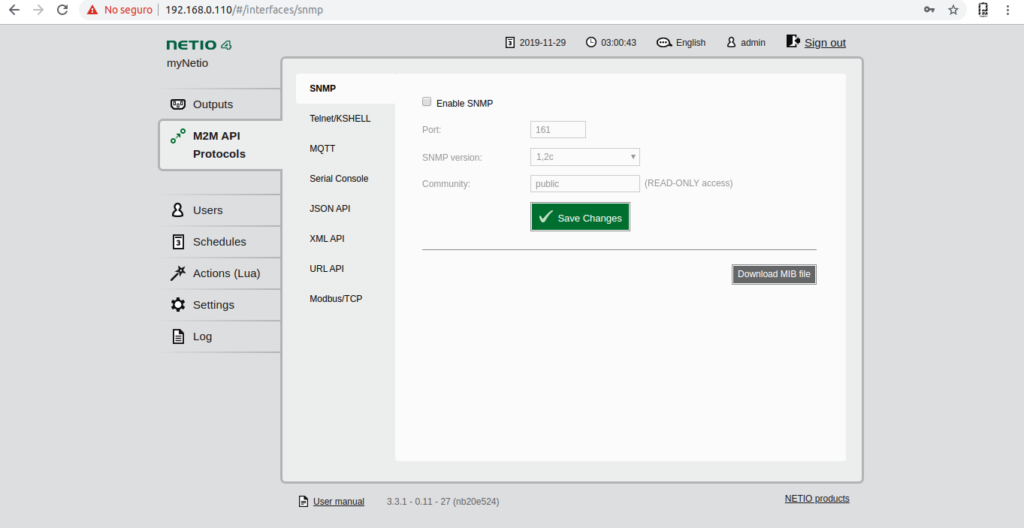 Built-in functions
Lua scripting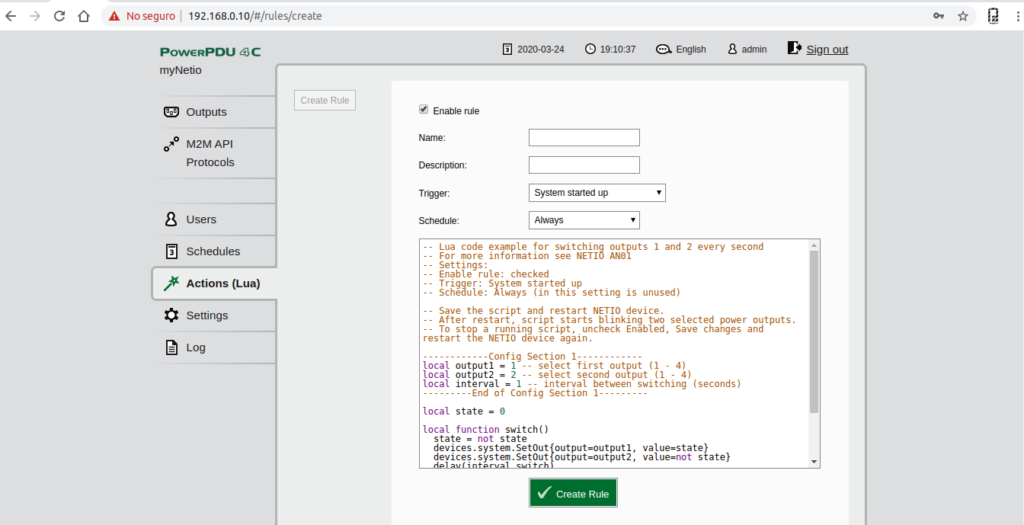 Operating conditions
Temperature: -20 ° C to + 75 ° C
For indoor use only (IP30)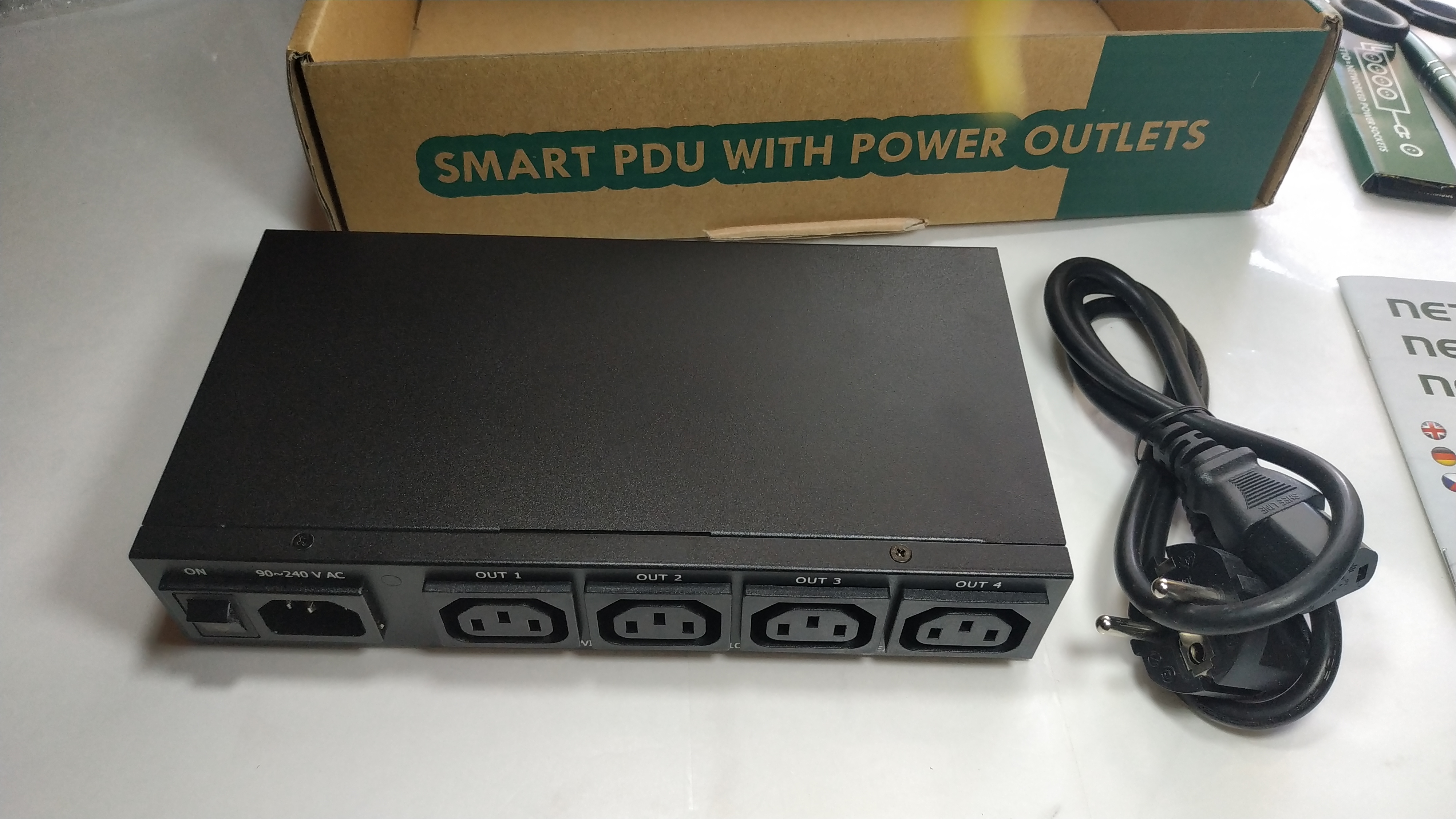 Specs
Warranty: 24 months
Cable length: 1m
Weight: 0.8 Kg
Package: 325 x 74 x 224mm (Width x Height x Depth)
Rules:

EN 61010-1 ed.2: 2011
EN 61326-1 ed.2: 2013
EN 55011 ed.3: 2010

Designed and manufactured in the Czech Republic.
Where to buy the PowerPDU 4C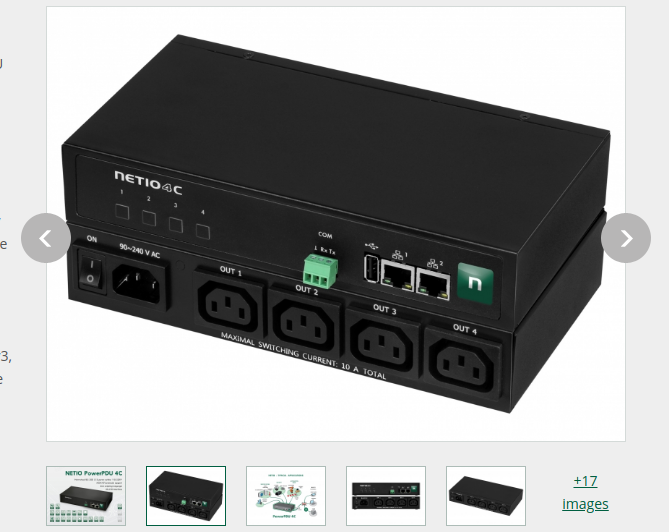 My package arrived
After 10 days the package arrived: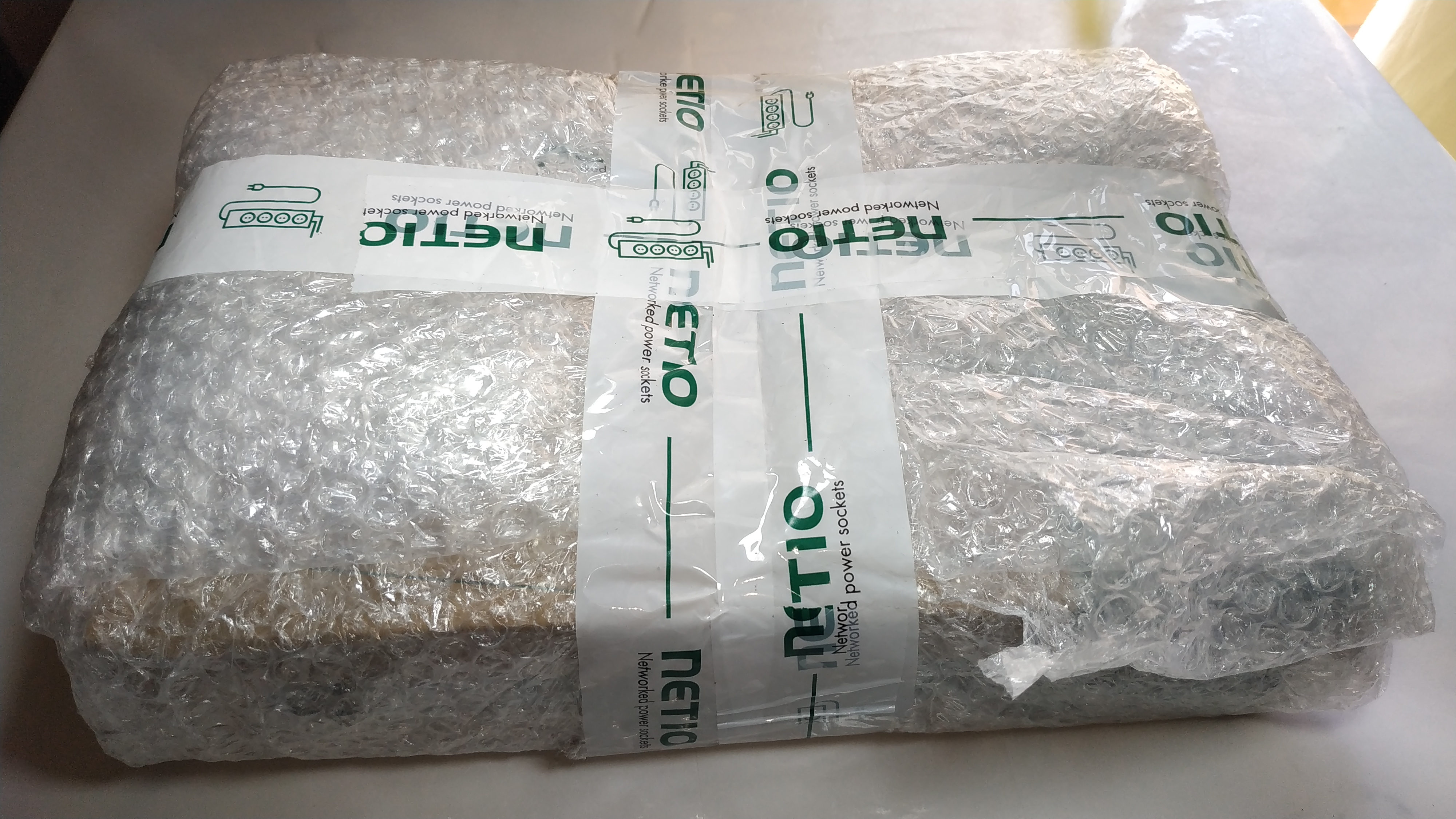 Package Contents
QIG (Printed Quick Installation Guide).
Power cable (Europlug C13 by default).
Ballpoint pen (Gift).
Chocolate (Gift).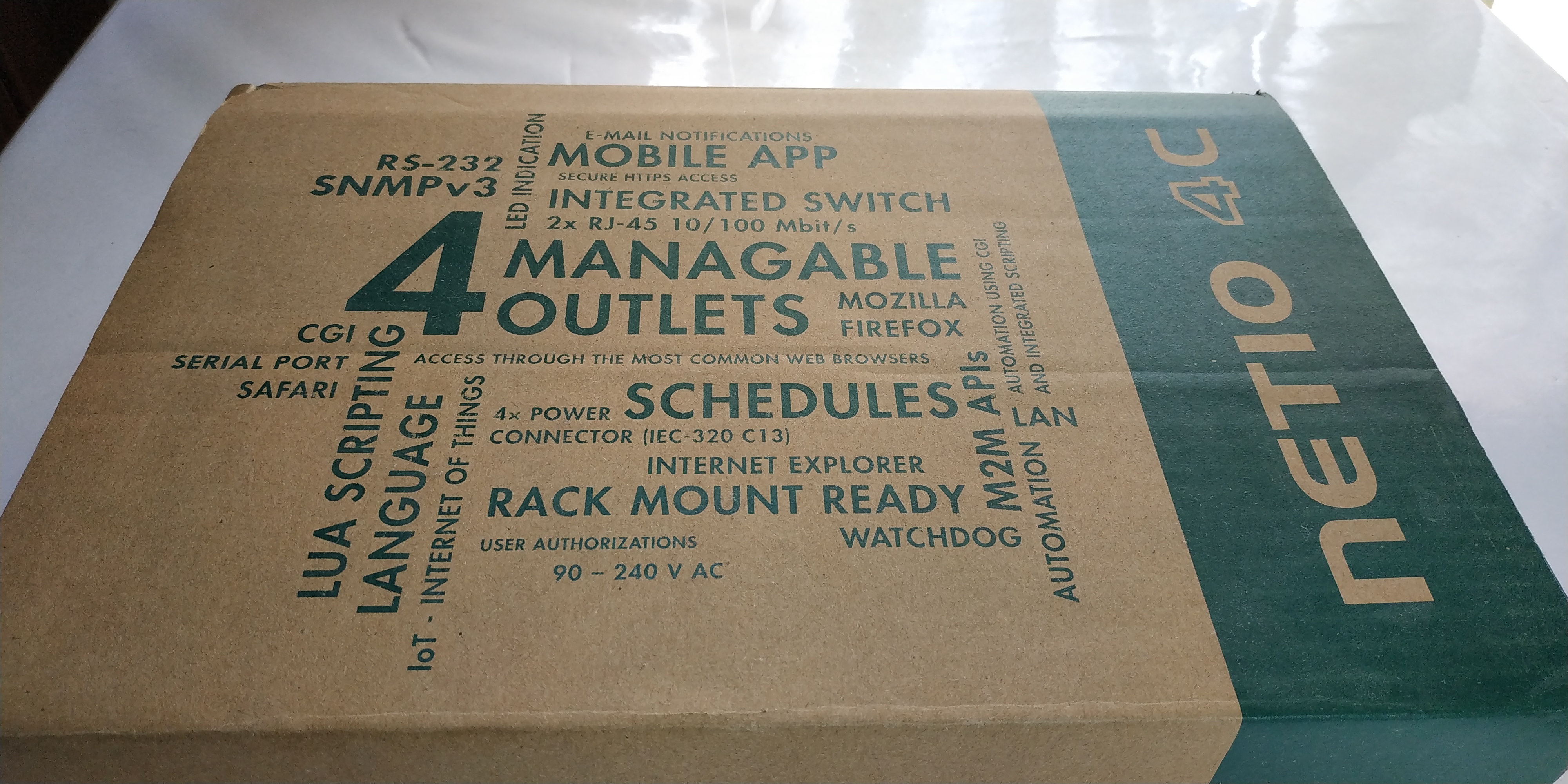 PowerPDU Power Plug
The plug that comes by default is the European version, luckily there is a European-American Plug Converter.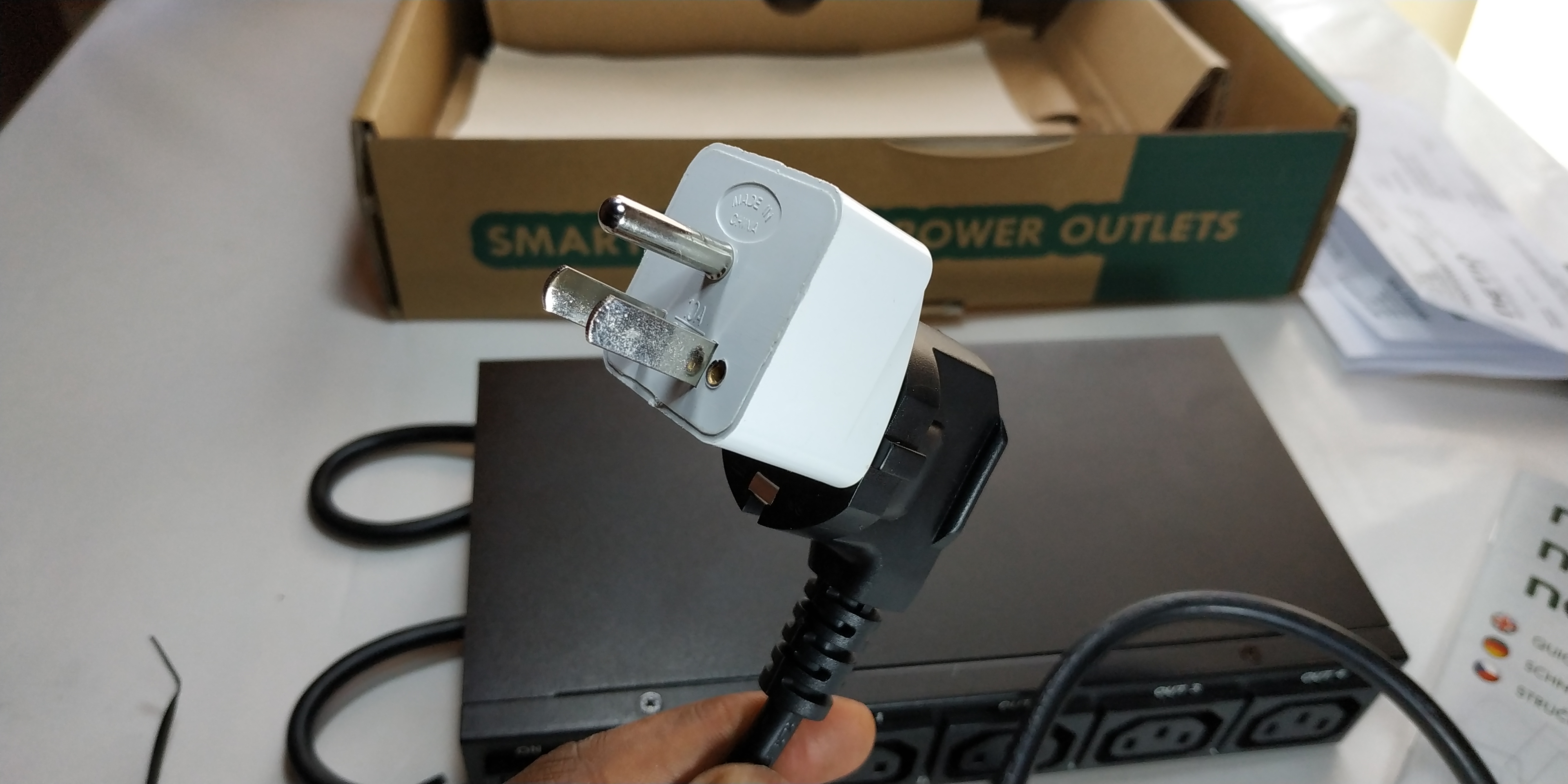 4 Output PowerPDU Plug
In this case they are C14 type output connectors, I have found an extension cable.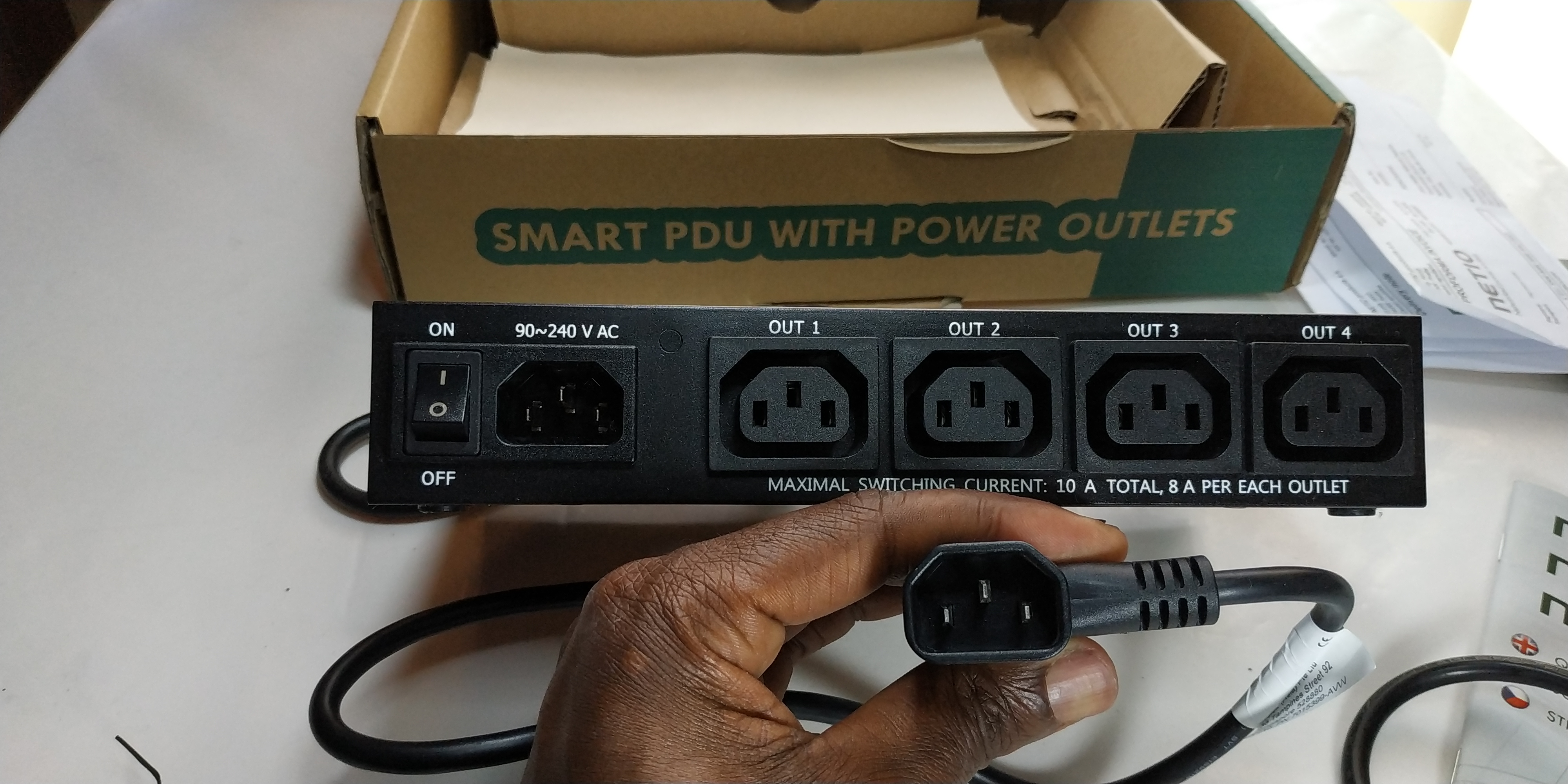 I will modify the other connection to connect my test equipment.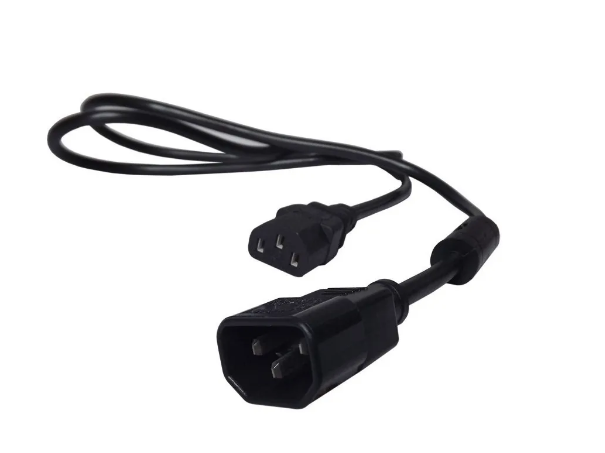 WEB Server Connection – Configuration
With a patch-Core cable we will connect to our local network.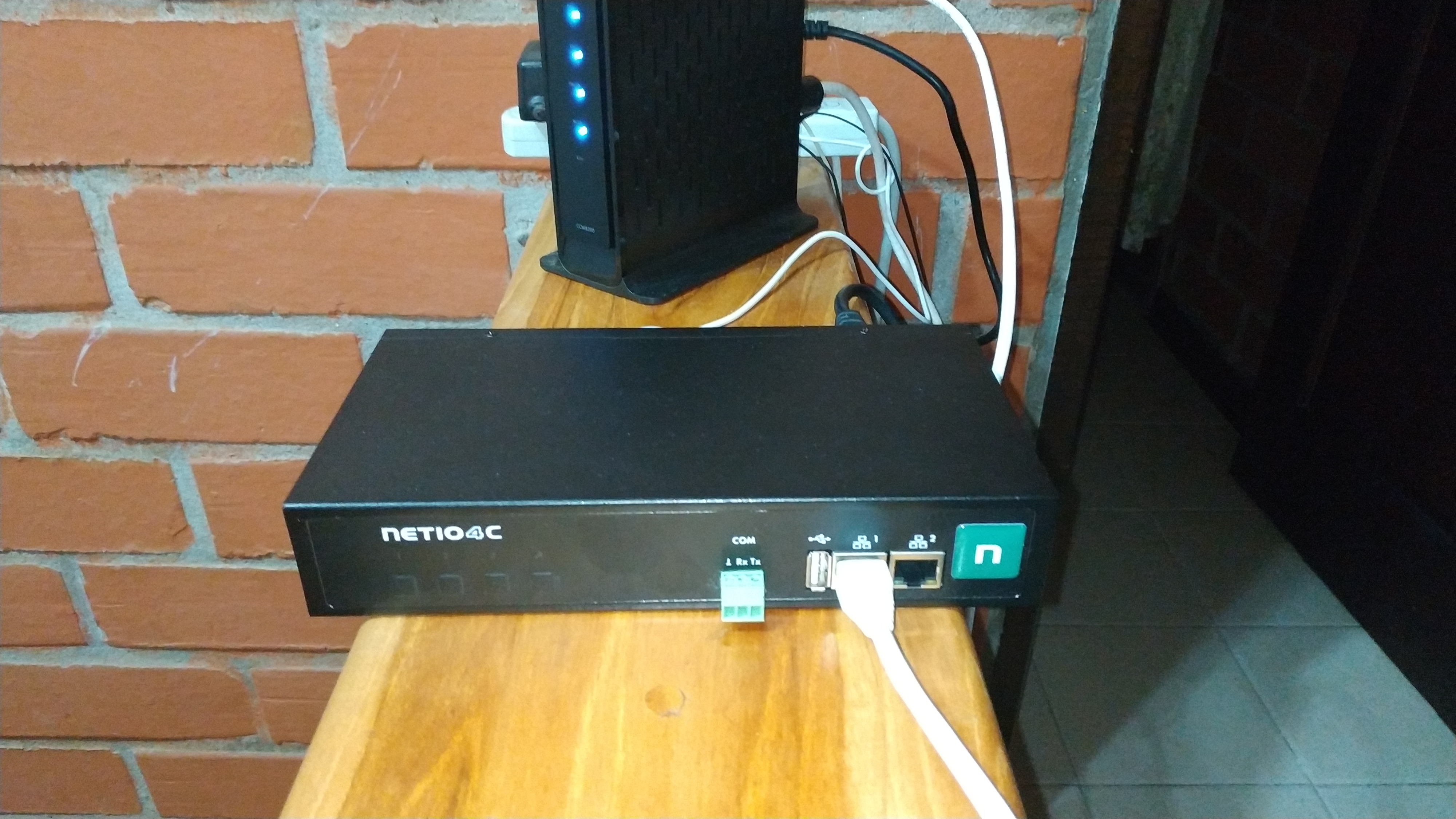 NETIO has applications to search for NETIO devices on the "Netio Discover" network using the MAC.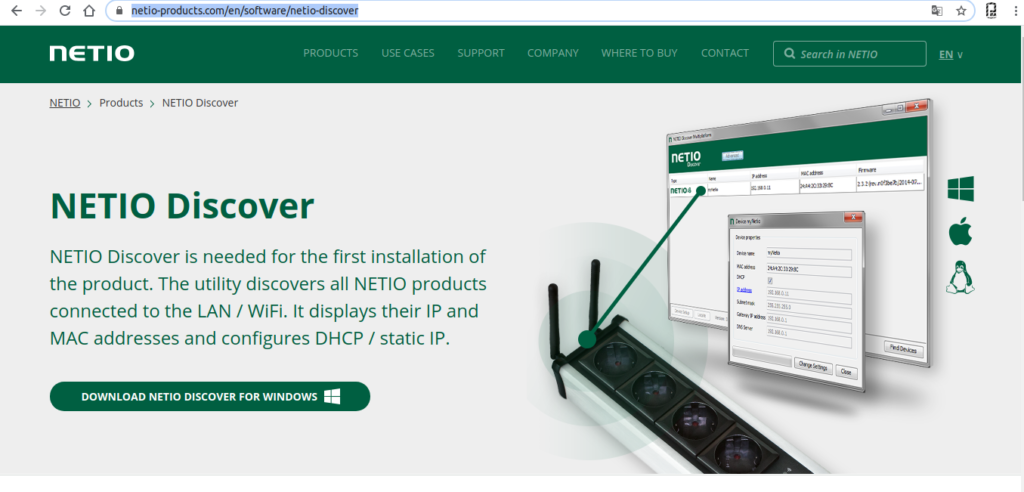 In my case I will use FING, which shows me the IP of the devices on my network, in my case it is 192.168.0.15.
From our web browser we enter:
User (default): admin
Password (default): admin

pda
Enter the administration web interface.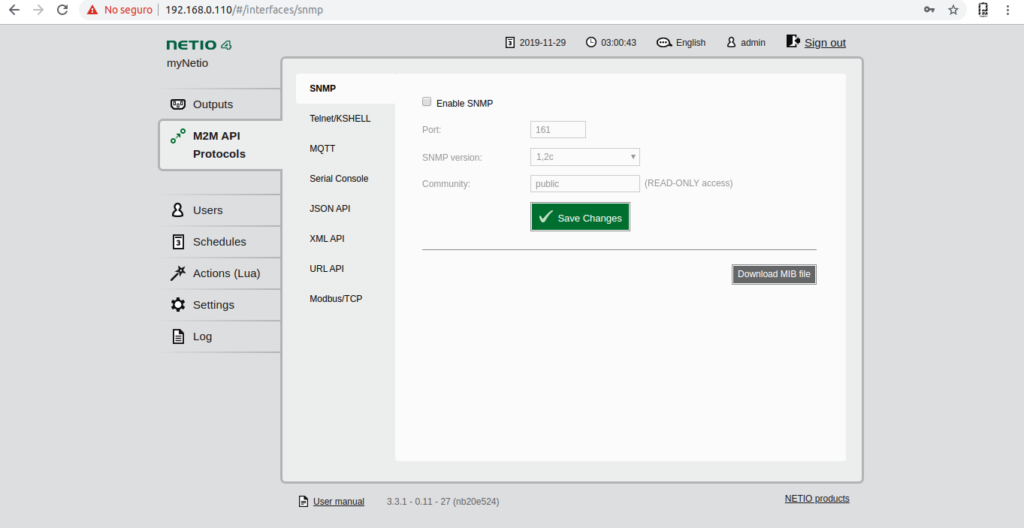 Conclusions
In future tutorials we will carry out integrations and tests using the wide variety of protocols.
It is an incredible device, it is not a simple consumption meter, it is an energy manager for devices, checking if they are turned on or programming their time of use.
It has ZCS (ZERO CURRENT SWITCHING) a very interesting feature of which we will go into detail later.
It has 13 communication protocols to facilitate integration with other platforms, it has a community and complete documentation, there are integration tests with:
IBM Cloud – MQTT-flex
IBM Cloud – NETIO 4x MQTT-LUA
Azure IoT Hub – MQTT
HiveMQ – MQTT-flex
NodeRED – JSON API
Jam-software – ServerSentinel
Thanks to Netio for this great device !!
Recommended