I have been collecting information about functional nodes for basic LoRaWAN tests for a while. This time I present the HELTEC LoRa 32 v1 Wifi module, it collects several interesting functions in IoT applications.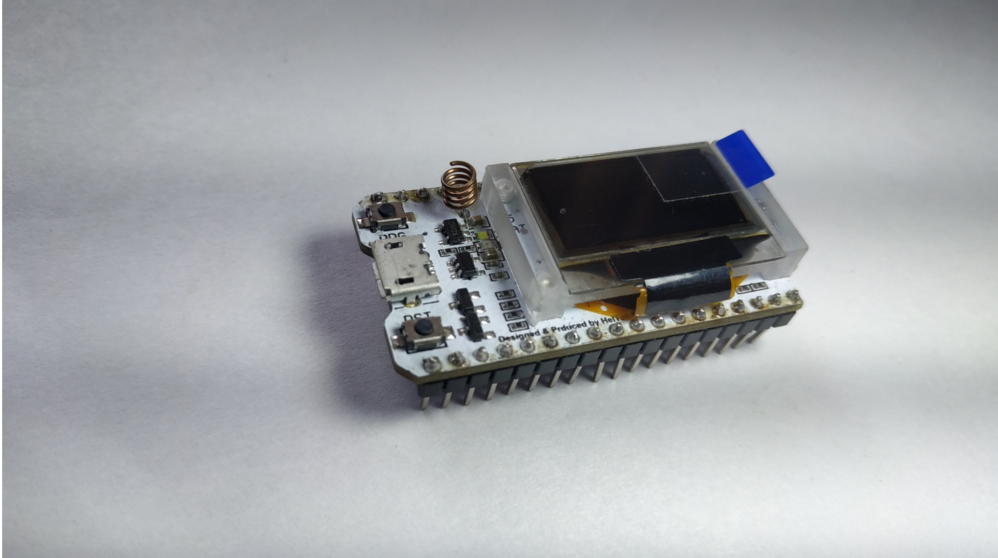 This node is the integration of an ESP32 and a LoRa Chip SX1276 (868-915Mhz) 0.96 inch Oled screen, usb-serial converter CP2102.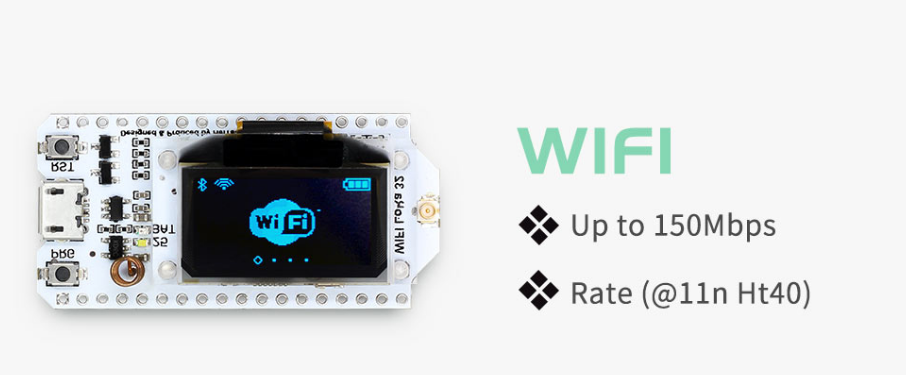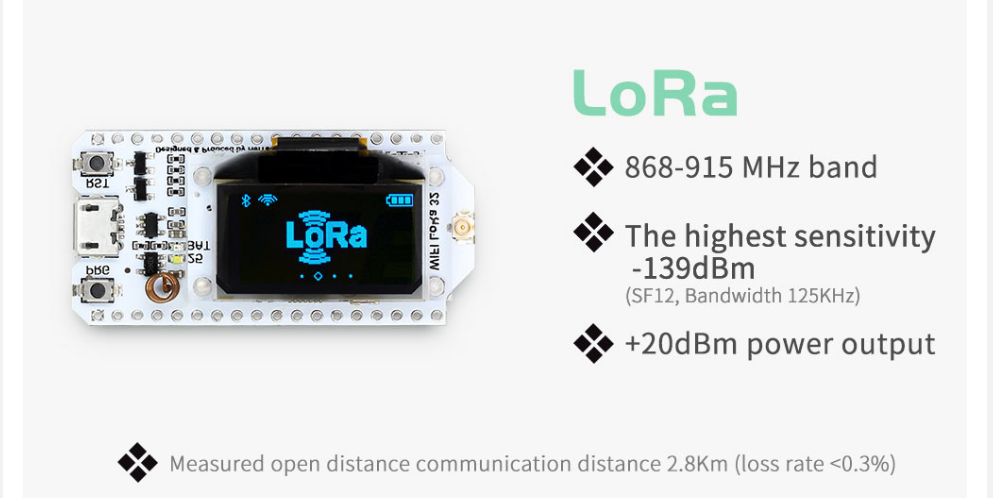 Characteristics
Maximum frequency: 240 MHZ Flash: 32M-Bits
Processor: For Tensilica LX6 Dual Core
Display: Oled 0.96 "blue
Chip Master: ESP32
LoRa chip: SX1276
Compatible frequency band: 868-915 MhZ
Open communication distance: 2.8 Km aprox
Processing capacity: up to 600 MIPS
Dual mode Bluetooth: traditional Bluetooth and Bluetooth low power BLE
Development environment: perfect support for Arduino, ESP-IDF and Mongoose OS.
Operating voltage: 3.3-7V
Operating temperature range: -40-90 °
Receiver sensitivity: -139dBm (SF12, 125 KHZ)
UDP Continuous Performance: 135 Mbps
USB adapter chip: CP2102
Support mode: tracker, station, softAP and direct Wi-Fi
Transmit Power: 19.5dBm @ 11b, 16.5dBm @ 11g, 15.5dbm @ 11n
Data rate: 150 Mbps @ 11n HT40, 72 Mbps @ 11n HT20.54 Mbps @ 11g 11 Mbps @ 11b
Pinout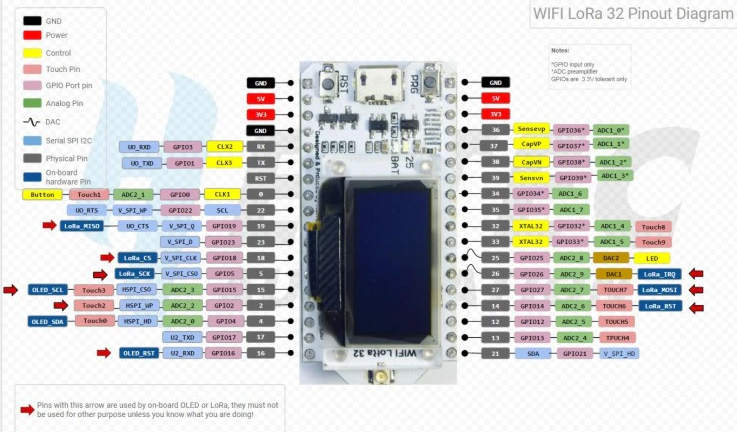 Dimensions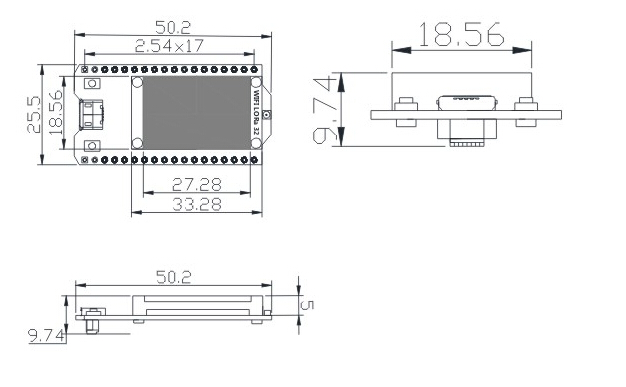 Materials and where to Buy
Other Recommended
Node LoRaWAN RAK811 (AT Commands)
1 Module Gateway RAK833-SPI/USB + antena IPEX
Module/Radio RFM95 Hope Electronics
RAK2245 LoRa Pi Hat GATEWAY LoRa LoRaWAN
Video Test and Review
Upcoming LoRaWAN integrations
We have done a lot of tests, looking for functional and replicable LoRaWAN possibilities, some time ago I made tests with a library created in ESP-IDF using FreeRTOS, I consider the best implementation that can be found on the Internet, next tutorials we will perform tests.
LoRaWAN example based on ESP-IDF + FreeRTOS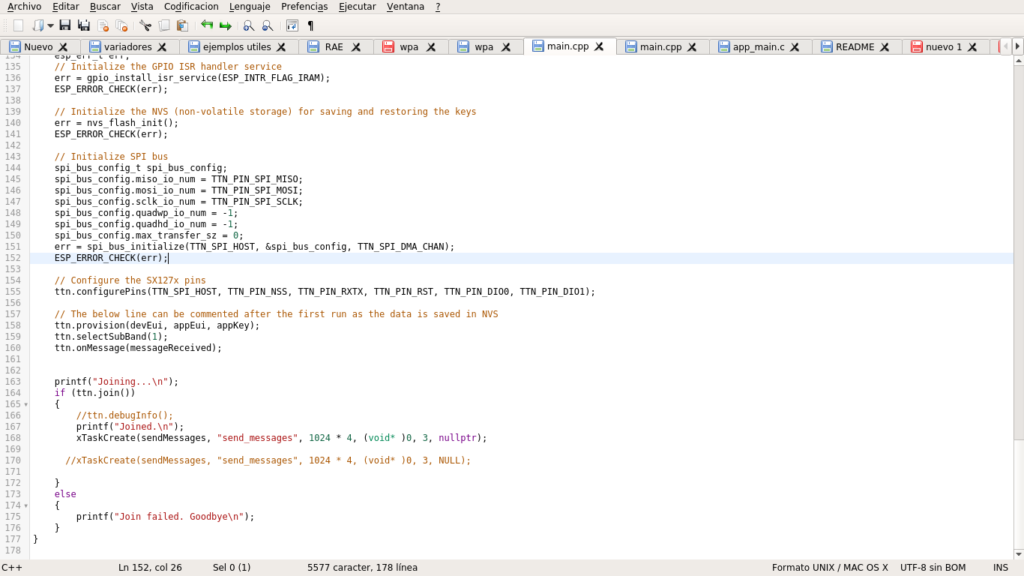 Uplink LoRaServer – ChirpStack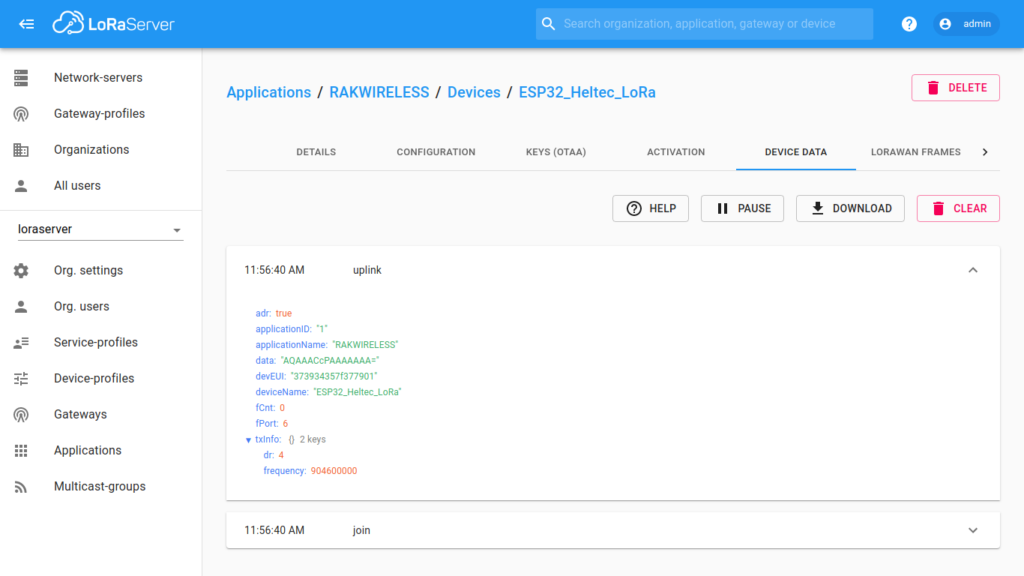 Conclusions
This module is the mixture of an ESP32 + Oled + SX1276, perfect for those who start in LoRa and the most experienced people who want to start in LoRaWAN, in our case we have carried out tests with LoRaWAN libraries implemented in ESP-IDF of Espressif.