Continuing our LoRaWAN tests, a few months ago the materials arrived to assemble my new gateway using the RAK2245 Pi HAT Module for Raspberry Pi. In previous tutorials we used the RAK833 USB / SPI.
This time we will review our new RAK2245 Pi HAT module.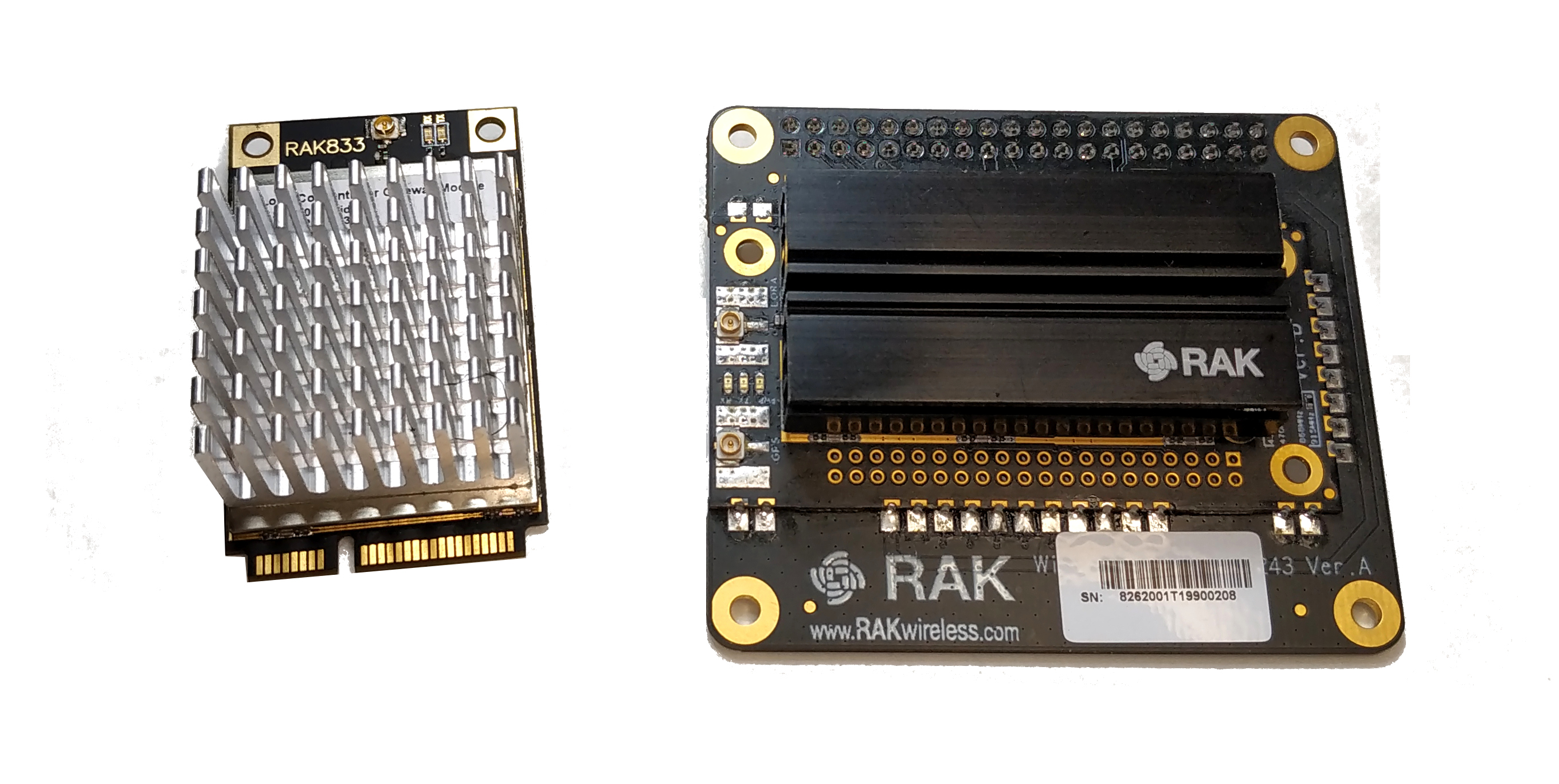 Features
Compatible with Raspberry Pi 3 Model B + and Raspberry Pi Zero.
Integrated Ublox MAX-7Q GPS module and heat sink.
The SX1301 baseband processor emulates 49 x LoRa demodulators, 10 parallel demodulation paths, supports 8 uplink / 1 downlink channels.
2 SX125x Tx / Rx front-end units for high / low frequency.
Supports 5V power supply, integrated level conversion circuit.
TX power up to 27dBm, RX sensitivity up to -139dBm @ SF12, BW 125KHz.
Supports the latest LoRaWAN ™ 1.0.2 protocol.
Supports the unlicensed global frequency band (EU433, CN470, EU868, US915, AS923, AU915, KR920, IN865, and AS920).
Supports SPI, UART Communications, I2C interface.
Technical specifications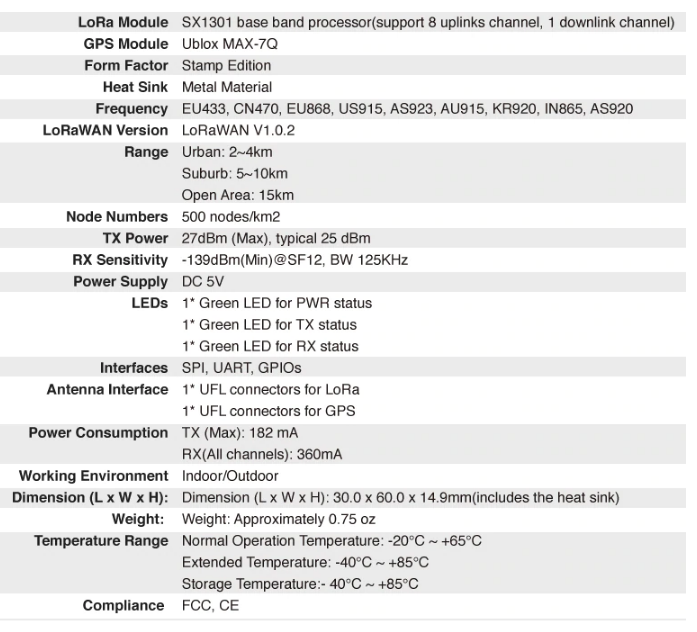 Dimensions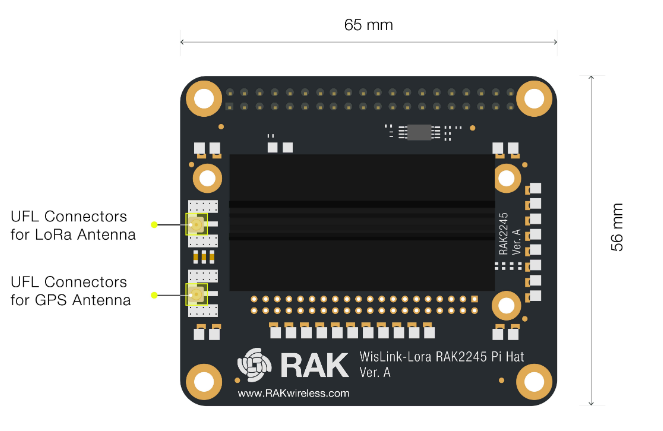 Upper face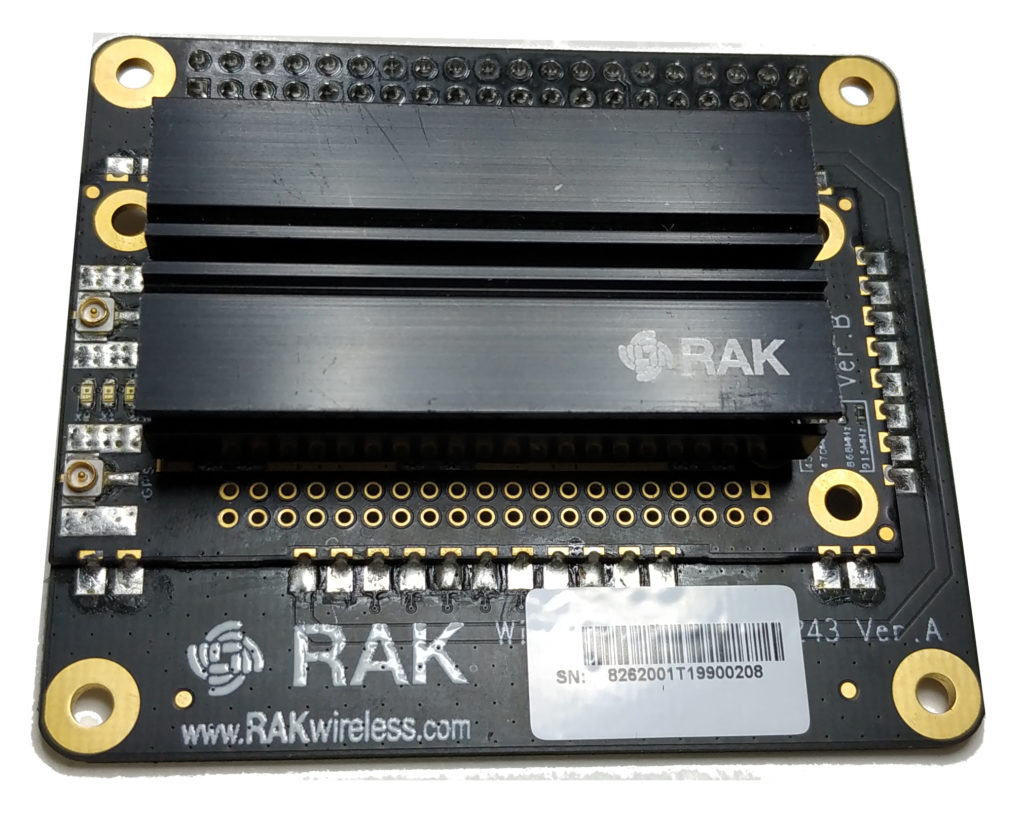 Underside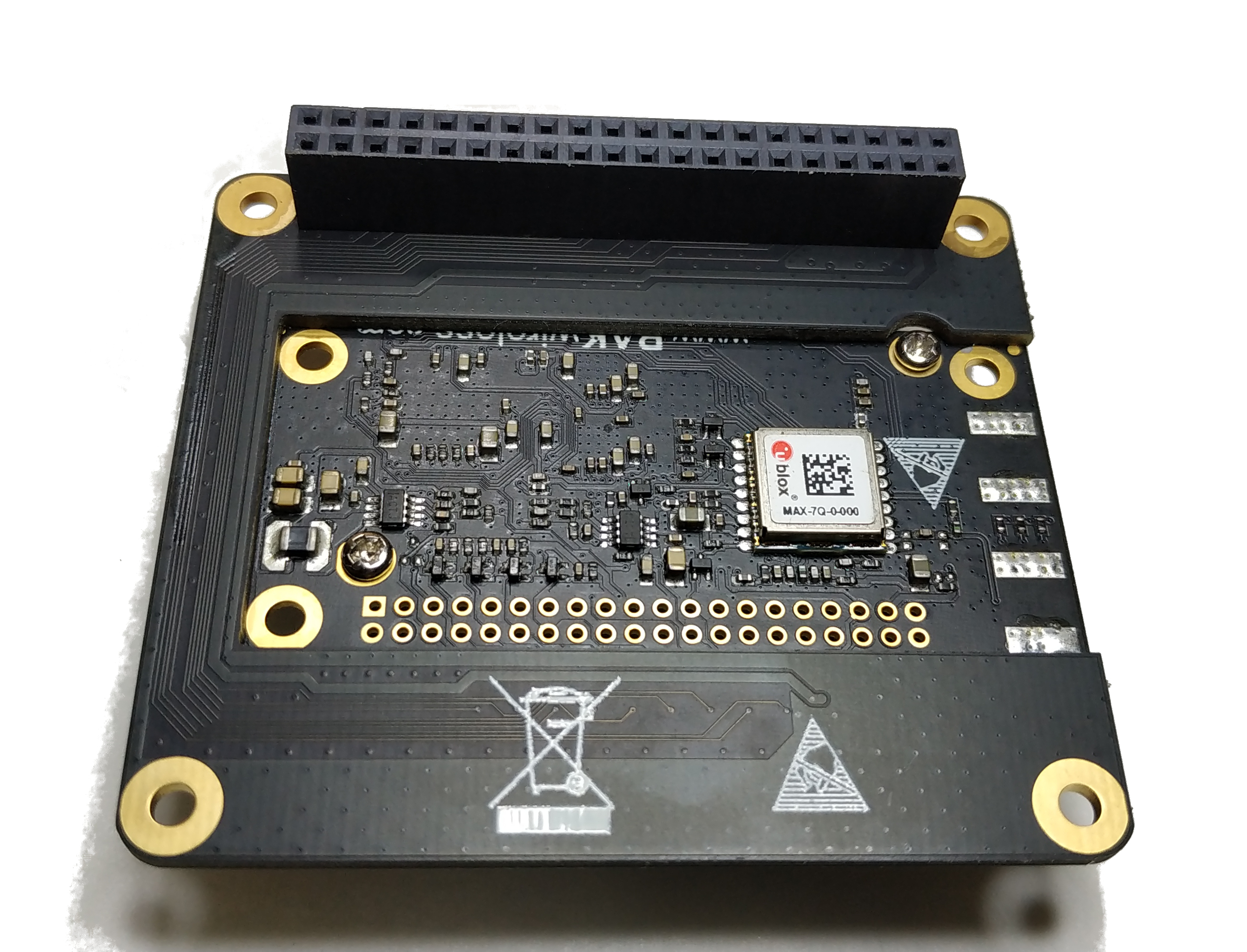 Pin diagram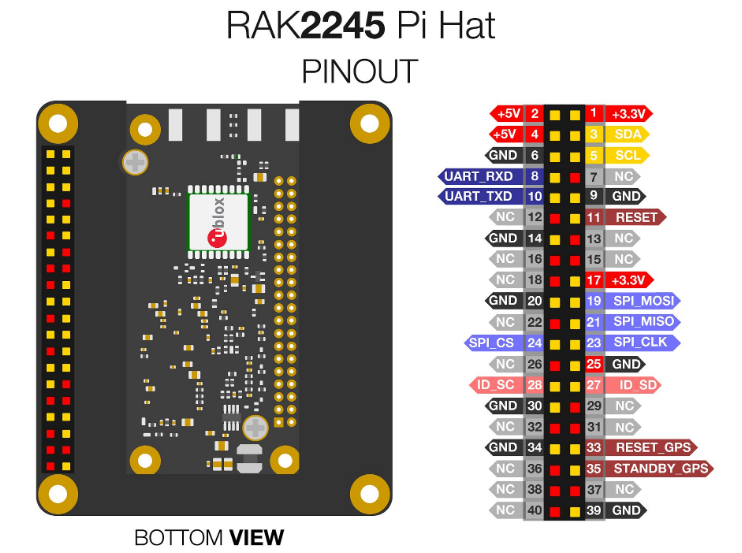 Blocks diagram
It uses a SX1301 Chip, which controls 2 SX125x, unlike the RAK833 SPI / USB, this version has GPS communicating through the serial UART of our Raspberry Pi.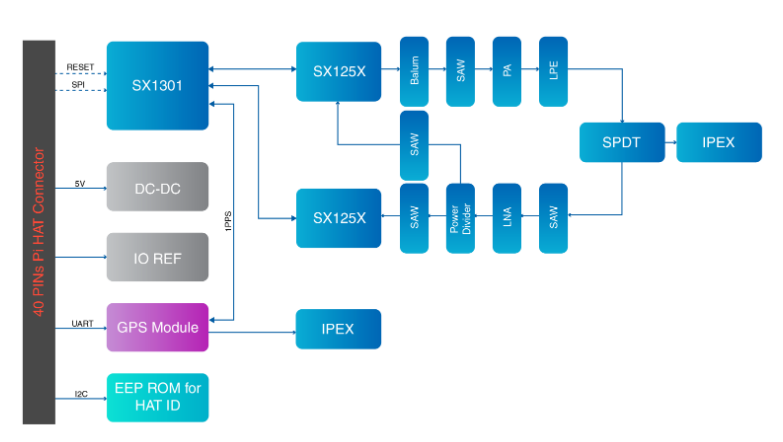 Selection of ISM Frequencies or Bands
Important: you must correctly select the working frequency of your gateway, in my case US915MHz, the ISM bands assigned to America, search for the bands associated with your country or region.
Available Bands and Frequencies:
Europe 433 (433MHz – 435MHz)
China CN470 (RX: 470MHz – 490MHz) (TX: 490MHz – 520MHz)
Europe EU 868 (865MHz – 872MHz)
Asia AS 923 (923MHz – 925MHz)
Australia AU 915 (915MHz – 928MHz)
South Korea KR 920 ((920MHz-923MHz)
America US 915 (902MHz – 928MHz)
India IN865 (865MHz – 867MHz)
Where to Buy RAK2245 Pi HAT
RAK2245 LoRa Pi Hat GATEWAY LoRa LoRaWAN
Other Recommended LoRaWAN
Module RAK833-SPI/USB + antena IPEX
Converter Board mPCIe to USB for RAK833
Node LoRaWAN RAK811 (AT Commands)
Module ESP32 ESP-WROOM-32
Module ESP32 LoRa HELTEC – 915 MHz
Module/Radio RFM95 Hope Electronics
LoRaWAN Button RAK
Antenna 5.8dBi Fiberglass LoRa LoRaWAN
Recommended Tutorial
Before starting LoRaWAN I recommend reading this tutorial, which will detail important concepts.
Gateway LoRaWAN with Raspberry Pi Zero W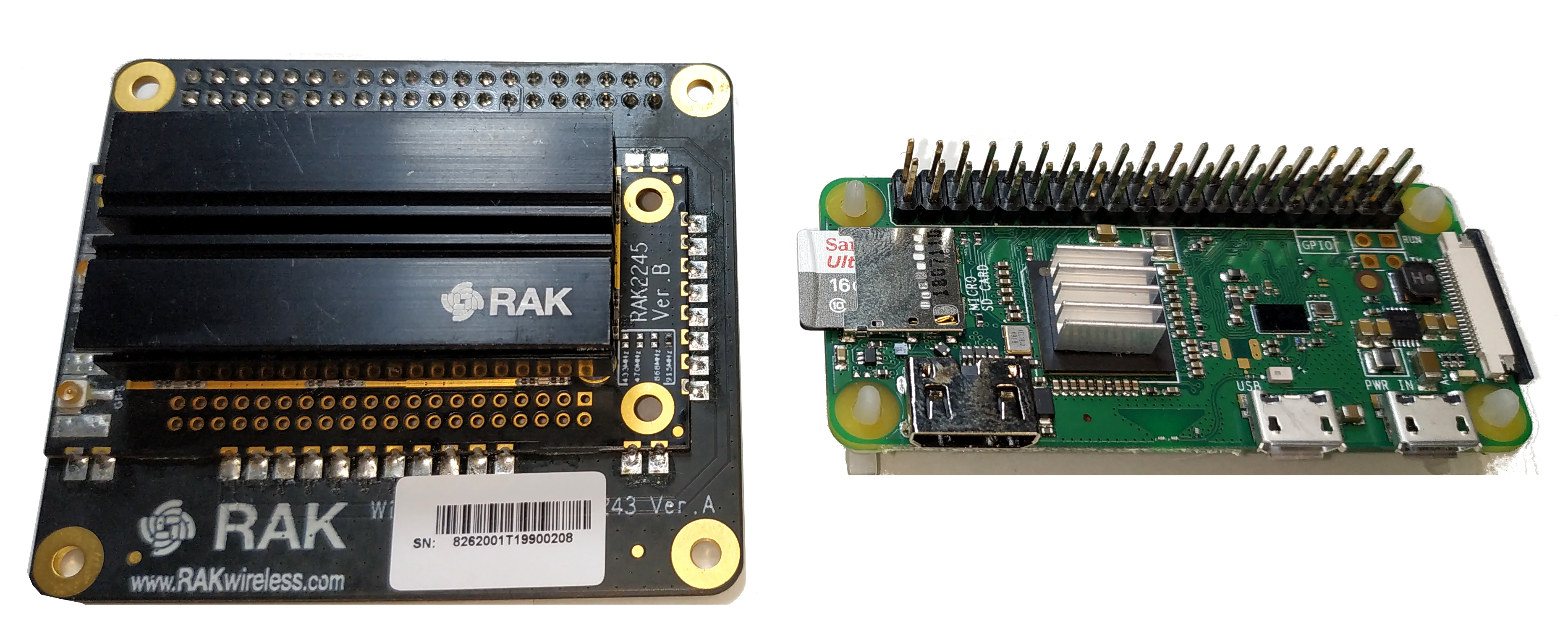 In future tutorials we will configure a Raspberry Pi ZERO, to create our LoRaWAN Gateway.
Modular Complete Gateway
A colleague has designed this modular system for quick assembly, called "tusistemita", the components and gerbers documentation will be available in a few weeks at "tusistemita.com".
Raspberry Pi Zero W
PoE power supply (Power over Ethernet)
Wifi communication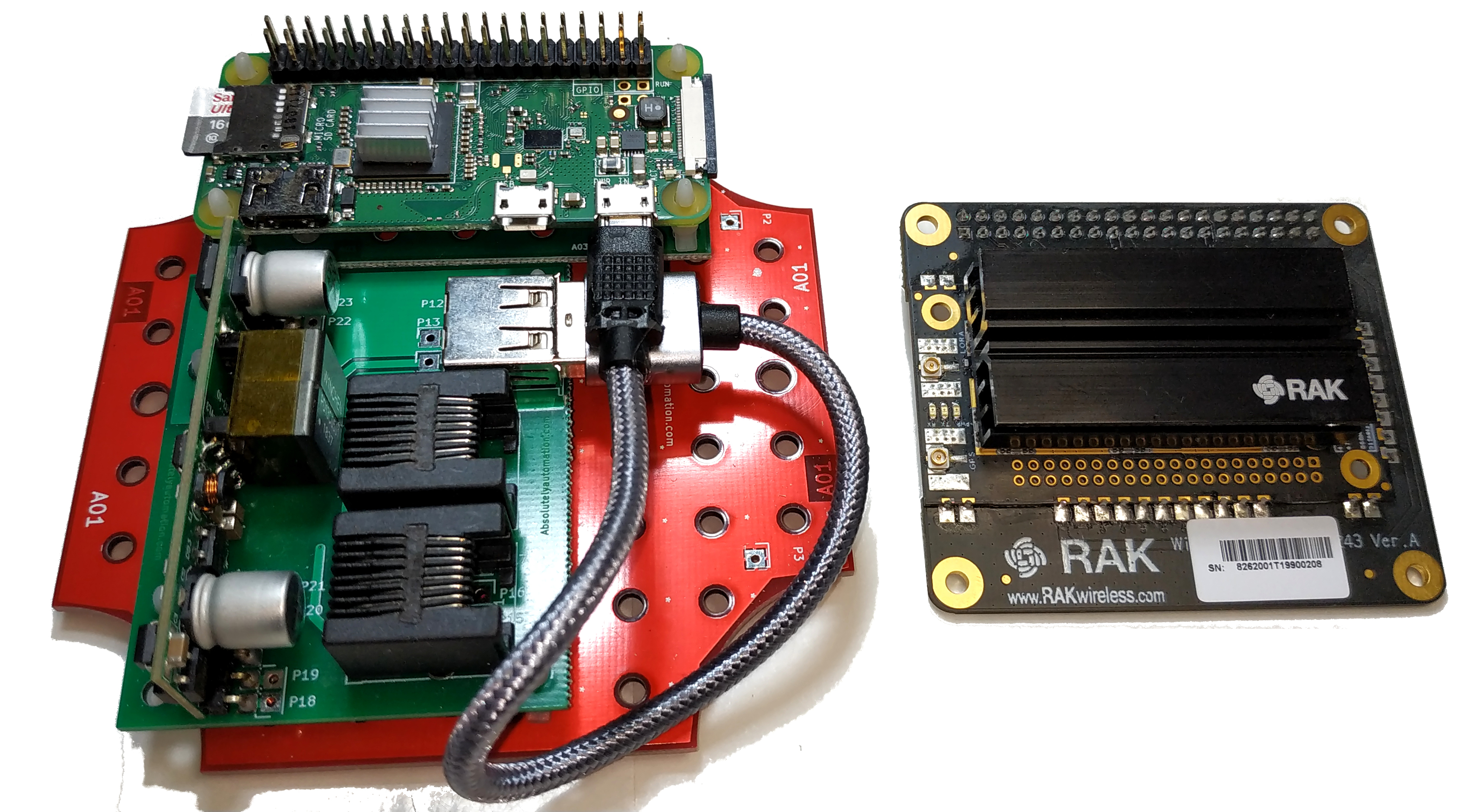 Other Recommended Tutorials
Video: Review Gateway Lorawan RAK2245 Pi HAT for Raspberry Pi Zero
Conclusions
There are many solutions on the market in the case of Gateway LoRaWAN, in our case we present this possible solution to its didactic integrations of an educational nature.
The RAK2245 Pi HAT, presents robustness and since it is multichannel it is a good investment to implement either public or private LoRaWAN networks.
500 nodes per square kilometer are estimated, a good number of sensors and actuators, of course all this is relative largely depends on the configuration of your network.
We have previously tested RAK products, such as RAK811 nodes, which are very promising in IoT implementations.
Recommended Links