In this opportunity we will make a brief characterization about LoRa ™ and specifically Radio RFM95/96 manufactured by Hoperf Electronics. Since a couple of months ago, 2 modules arrived, initially I want to make an introduction on the subject that had been pending for a long time.
Personally for a long time I wanted to do tests with LoRa, based on the tutorial Internet Of Things (IoT) Using NiceRf LoRa1276 of absolutelyautomation.com, we will talk a little about LPWAN networks (Low Power Wide Area Network) they allow low energy consumption in a wide coverage area, also known as long distance.
Let's first clarify that LoRa and LoRaWAN are not the same:
LoRa is the physical layer or in simple words is the modulation, the modem or radio, the hardware.
LoRaWAN is the network protocol or architecture that works on LoRa.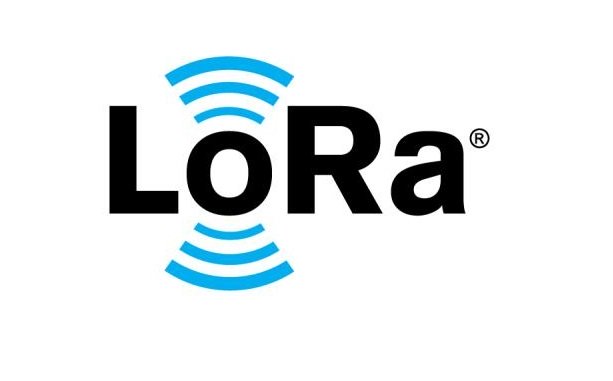 What is LoRa?
LoRa ™ is a long-range radio technology "Lo ng- Ra nge" its main features:
Its spread spectrum modulation allows a significantly greater scope to other technologies.
High sensitivity (-168dB) combined with high immunity to interference.
Low Consumption (up to 10 years with a battery, good depends on certain characteristics).
Low data transfer (up to 255 bytes).
Applications
It is considered that the following applications can be made:
Automatic reading of the meter.
Home Automation and Building Automation.
Wireless alarm and security systems.
Monitoring and industrial control.
Long-range irrigation systems.
Complete Information: lora-alliance.org.
image from: https://iot.ieee.org
Considerations
ISM Bands
LoRa ™ operates in an open spectrum or ISM band of "Industrial, scientific and medical (ISM) radio bands" uses for radio frequency other than telecommunications.
Recommeded Tutorial: Getting started, considerations and concepts LoRaWAN # 1
Frequency Assignment
The ISM bands in which our device will work should be taken into account depending on our location "Country, Region or Continent" There are tables in which the national assignments of frequencies and use are indicated under the responsibility of the national authority.
More Information: ISM Bands frecuency tables: source Wikipedia.
The International Radio Regulations have divided the world into 3 regions to organize the radio spectrum.
Region 1 comprises Europe, Africa, the former Soviet Union, Mongolia and the Middle East west of the Persian Gulf, including Iraq.
The western boundary is defined by Line B.
Region 2 covers the Americas, including Greenland, and some of the eastern Pacific islands.
The eastern boundary is defined by Line B.
Region 3 contains most of Asia not belonging to the former Soviet Union (FSU), east of Iran, including most of Oceania.
References
Detailed ranges: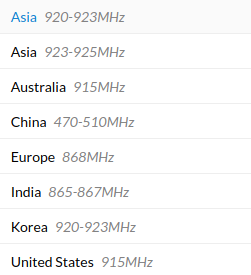 Looking specifically for the frequency assigned to my country Colombia located in South America, it is the same one used in North America, 915.0 MHz in a range between 902 and 928Mhz.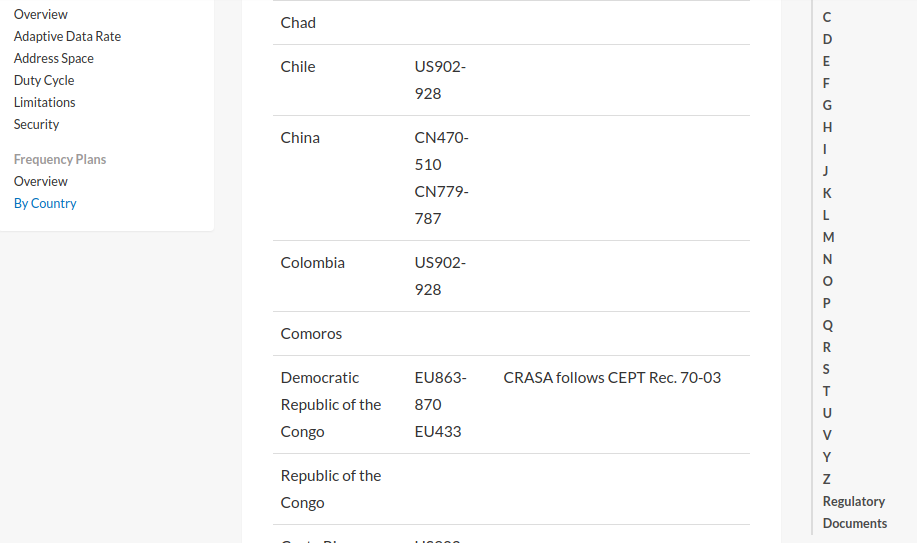 More information: considerations LoRa lowpowerlab.com
What happens if I use another frequency?
I recommend using the assigned frequency, in case of using another frequency, I do not know the legal framework of each country regarding the subject, but suppose I used 868 MHz, possibly if my application would work, but that reserved frequency could be for anything else, could be cell phone networks, although my module may not affect those networks but my application would have a lot of interference.
Environment conditions
There is a great variety of radios and the quality and performance of the radios depends on the environment, the best results are obtained with:
Outdoor environment
No obstacles, walls or walls
There is no high level radio that interferes in the ISM band 868 – 915MHz.
At least 1 meter above the ground.
Maximum 15 kilometers in a suburban environment and maximum 2 kilometers in a dense urban environment, depends on the quality of the radio.
Module RFM95 of Hoperf Electronics
I have chosen Radio-Modem RFM95 from Hoperf electronics, since I see that there are already integrations with the platforms already used such as Arduino, ESP8266, Raspberry pi and I suppose that with ESP32, they really are very popular.
In the market there are a variety of modules, to make a correct selection take into account the frequency spectrum of the region in which they are located, in my case in Colombia (South America) ISM is 915.0 MHz.
The RF95 module is for 915.0 MHz, factory marked on the back of the pcb.
ATTENTION: Operating voltage 3.3V Recommended, MIN 1.8V – MAX 3.7V, Can be connected directly to the ESP8266 and arduino micro pro to 3.3v, for other platforms to 5v use voltage converters.
The configuration and communication of the module is done via 4-wire SPI Bus, technically implemented in all microcontrollers.
It has 6 Gpio configurable by software, usually interruptions linked to the operation of the RFM95.
Although it can be configured as a LoRa TM modem, it can also be configured as an FSK / OOK modem and the GFSK, MSK and GMSK standards.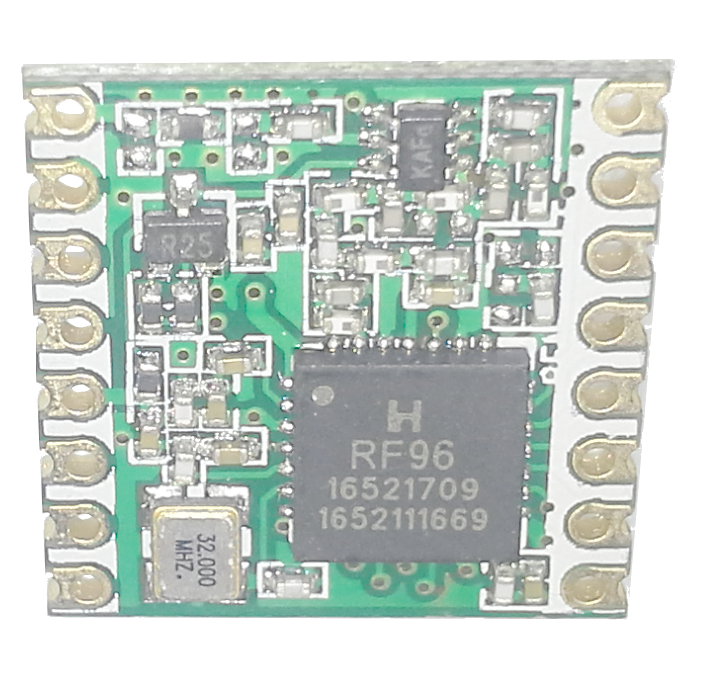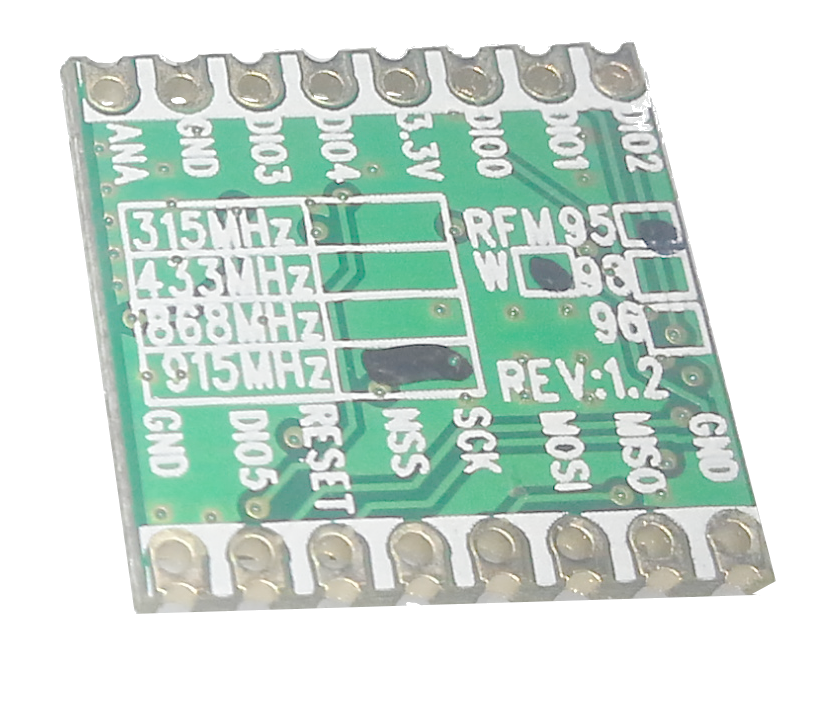 Characteristics
LoRa TM Modem.
168 dB maximum link budget.
+20 dBm – 100 mW constant RF output vs. V supply.
+14 dBm high efficiency PA.
Programmable bit rate up to 300 kbps.
High sensitivity: down to -148 dBm.
Bullet-proof front end: IIP3 = -12.5 dBm.
Excellent blocking immunity.
Low RX current of 10.3 mA, 200 nA register retention.
Fully integrated synthesizer with a resolution of 61 Hz.
FSK, GFSK, MSK, GMSK, LoRa TM and OOK modulation.
Built-in bit synchronizer for clock recovery.
Preamble detection.
127 dB Dynamic Range RSSI.
Automatic RF Sense and CAD with ultra-fast AFC.
Packet engine up to 256 bytes with CRC.
Built-in temperature sensor and low battery indicator.
Modue Size:16*16mm
Materials and where to buy them Cheap !!!
Note: To carry out tests it is recommended to have 2 RFM95 radios, one only does not work.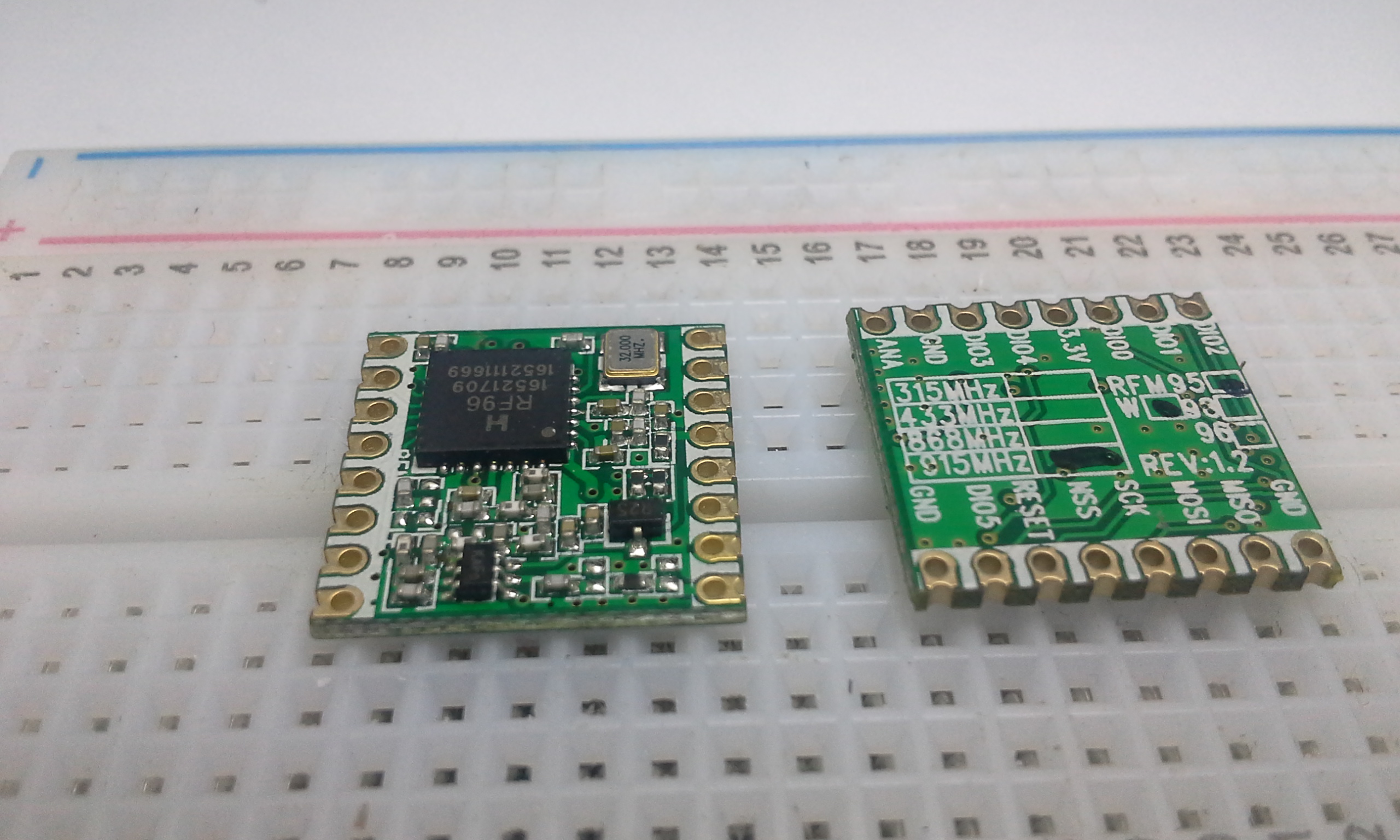 Video: Introduction LoRa & Module RFM95 Hoperf Electronics
Summary
Maximum Distance LoRa:
Max 15-20Km suburban / outdoor, 2Km urban, depends on the quality of the Radio, line of sight, walls walls, etc.
Low RX current of 10.3 mA, 200 nA retention log, according to the RFM95 datasheet, pending to perform tests.
In some blog indicate consumption of RFM95 in sleep mode 0.7 μA.
The radios do not need to be associated, paired, scanned technically that are in the same frequency and / or encryption key, and send and receive.
LoRaWAM is a bastard for low power and long distance networks LPWAN with all the requirements for the Internet of things, you could say that it is a protocol already defined to use on LoRa modulation, Later we will perform some tests.
Frequency does not require licenses since it uses the ISM band free of licenses, but consult the laws of your country regarding LoRa.
Considerations and recommendations
Before buying the radio, check the frequency of your area – country or region, if you could buy with any band / frequency but it is advisable to be in the bands allowed in our country and investigate the regulations regarding LoRa for your country in case to make a big application.
ATTENTION: Be very careful when handling the modules, verify that we are not loaded with static electricity, a static discharge could damage the modules.
Communication LoRa ESP8266 & Radio RFM95 #1
Conclusions
You could say that LoRa is "You send few data but they will go further …".
This technology has great applications in reading sensors / meters for sending data over long distances.
You could say that the LoRa radios come from the factory with a frequency or band pre-defined in my case 915MHz, There are some radios that allow working in all bands, since the chip can make the change but the RC filters output the antenna are the drawback given that they are fixed values.
The maximum distances make me curious because they are under almost ideal circumstances according to the manufacturer, we will perform tests to verify and validate the maximum distance and power consumption of the RFM95 module .
In next Tutorials we will make the LoRa communication with Esp8266 and / or Arduino, later we will test with LoRaWAN and the The Things Network platform.
References